Dalai Lama back in Dharamsala after US visit
The Tibetan Spirtual leader The Dalai Lama returned to Dharamsala after his successful fortnight-long visit to the US, a spokesman of the Tibetan government-in-exile said from its headquarters here. US Under Secretary of State Paula Dobriansky called on him April 21 at the University of Michigan.
The State Department has stated that the meeting was part of the ongoing efforts to facilitate dialogue between the The Dalai Lama and the Chinese government.
Anti-China protests engulf Dharamsala
Thousands of Tibetans held anti-China protests in this seat of the Tibetan government-in-exile Thursday coinciding with similar demonstrations against the Beijing Olympics flame in the Indian capital. A prayer meeting was held here in the morning in solidarity with the protests in New Delhi.
By afternoon, thousands of Tibetans including Buddhist monks and nuns and children assembled in upper Dharamsala and marched for several kilometres on the winding road to lower Dharamsala.
Many had covered their mouths with red bands. It signified that "in Communist China Tibetans have no right to speech", said a protester.
Many held placards and posters saying "Allow free press into Tibet" and "Free detained prisoners". The Tibetan Solidarity Committee organised the protests.
His Holiness The Dalai Lama Says He'll Resign if Violence Escalates
His Holiness invited international observers, including Chinese officials, to scour his offices here and investigate whether he had any role in inciting the latest anti-Chinese violence in tibet . He also threatened to resign as leader of Tibet's government-in-exile in the event of spiraling bloodshed in his homeland.
He said he remained committed to only nonviolent agitation and greater autonomy for Tibetans, not independence. He condemned the burning of Chinese flags and attacks on Chinese property and called violence "suicidal" for the Tibetan cause.
In a clear effort to quickly seize the higher moral ground and at the same time poke at China's important aspirations, he complimented Beijing for having met three out of four conditions to be a "superpower" — he acknowledged it has the world's largest population, military prowess, and a fast-developing economy.
"Fourth, moral authority, that's lacking," he said, and for the second time in two days he accused Chinese officials of a "rule of terror" in Tibet, the formerly Himalayan kingdom he fled for exile in India 49 years ago.
The Dalai Lama's remarks to reporters on Tuesday, here in the seat of the Tibetan exile movement, also revealed thathe has been unnerved by the violence across the border in Tibet and by the increasingly radical calls from Tibetan exiles in this country.
The 72-year-old spiritual leader of Lama Buddhism said he would step down from his political post if things "get out of control."
He said he planned to meet Wednesday with those who have vowed to march 900 miles from here to Lhasa, the Tibetan capital, and convey his "reservations" about their effort. The march has been a source of embarrassment to New Delhi. The first batch of marchers that set off from here last week was arrested by Indian police; the second batch was allowed to continue, but they are still well inside Indian territory. The Dalai Lama chided their ambitions. "On border, some clash with Chinese soldiers, what use that?" he said.
He acknowledged there was growing frustration and a feeling that his "Middle Way" approach — no independence for Tibet but a large degree of autonomy — had achieved no concrete gains. But but dismissed talk of any other path as impractical.
"Last few days I had a sort of feeling, a tiger, of a young deer in a tiger's hand," he said, in the most intimate confession during the winding, two-hour long exchange. "Deer really can fight the tiger? Can express. But actual fight? Our only weapon, only strength is justice, truth. But effect of truth, justice sometimes takes longer time. Weapons power is immediately there."
No sooner had he finished speaking that protesters outside the gate of his compound torched a Chinese flag, shouting Hu Jintao Murdabad," which in Hindi is literally "death to Hu Jintao," the Chinese president. Two hours later, they burned more Chinese flags. Earlier, monks chanted prayers and walked in thick columns through the hills. Gory photographs were pasted across town, of Tibetans allegedly shot and killed by Chinese forces.
The Dalai Lama said he remained open to resuming peace talks with Chinese officials, and in an impish reference to the criticisms by Chinese leaders, said a solution could be reached swiftly if there were "mutual respect" and a willingness to take Tibetan grievances seriously.
There was no direct criticism of either Mr. Hu or China's Premier , only of local officials whom the Dalai Lama accused of creating "artificial facts." "Prime Minister," he said, addressing Mr. Wen, "Come here and investigate thoroughly."
He went on: "Since we are not seeking independence, actually we are helping the Chinese government to build harmonious society, happy society and Tibet remain within the People's Republic of China, happily. I am helping them, if they look at the situation calmly. But so far it's full of suspicion, so therefore they cannot see reality."
Tibetans Expect Help From World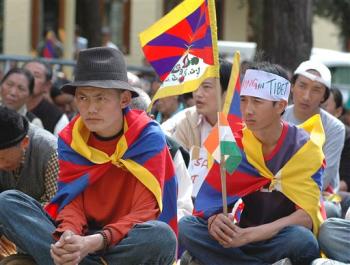 Exiled Tibetans to host their own 'Olympics' in northern India
NGOs come out in support of Tibetans, Dalai Lama
US House Speaker Backs Dalai Lama
Tibetans Continue Protests in Dharamsala and in parts of Kangra Valley
"Free Tibet" and "anti-china policies" slogans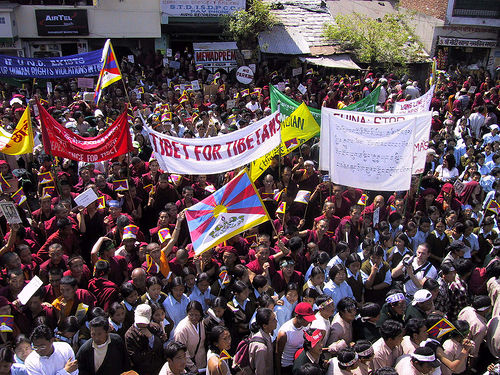 Image shows recent Peaceful Protest in the Dharamsala Town on Sunday.
Dalai Lama condemns 'cultural genocide' in Tibet
Speaking for the first time after China cracked down on protests by Buddhist monks that led to street violence in Lhasa in which 10 people were killed, the Tibetan spiritual leader Dalai Lama, has called for an international investigation into the reprisals by Chinese authorities to control the Tibetan agitators.
The Dalai Lama described the happenings in his homeland as "cultural genocide" and said the toll could be as high as 100.
"Some respected international organization can find out what the situation is in Tibet and what is the cause," he told a crowded press conference in the capital of the Tibetan government-in-exile, and added: "Whether intentionally or unintentionally, some kind of genocide is taking place (in Tibet)." The statement is bound to be seen as a departure from his known position not to speak against China from Indian soil.
The remarks must also be seen in the context of an outcry among Tibetans for a probe by the United Nations into the "repressive" measures adopted by Beijing to control the uprising in Lhasa.
However, even as the Chinese security forces appeared to regain control over Lhasa, with more bodies from killings over the weekend being found, the protests spread to other areas with significant Tibetan population.
The areas included Sichuan, where a police station was burned down. Unofficial estimates now put the death toll at 80.
Apprehending a dent into their plans to hold a "flawless" Olympics, Communist Party bosses in Beijing are now trying to drive a wedge between different sects of Tibetan Buddhists by getting the Panchen Lama, who holds an important religious seat, to speak out against the riots and in support of the Chinese authorities.
We want autonomy, not separation: Dalai Lama
*The Chinese action in Tibet is a "cultural genocide".
* The recent protests are a manifestation of the frustration simmering in the hearts of the Tibetans for the past many years.
* I can't dictate people's movement in a democratic society and being a servant of the people, I wholeheartedly stand by their cause.
* Tibet is facing a serious danger. Whether China admits it or not, there is a problem.
* I'm not against hosting Olympics in Beijing, but China should be reminded to play a good host and respect human rights.
Press Release : A Statement from The Dalai Lama
I am deeply concerned over the situation that has been developing in Tibet following peaceful protests in many parts of Tibet, including Lhasa, in recent days. These protests are a manifestation of the deep-rooted resentment of the Tibetan people under the present governance.
As I have always said, unity and stability under brute force is at best a temporary solution. It is unrealistic to expect unity and stability under such a rule and would therefore not be conducive to finding a peaceful and lasting solution.
I therefore appeal to the Chinese leadership to stop using force and address the long-simmering resentment of the Tibetan people through dialogue with the Tibetan people. I also urge my fellow Tibetans not to resort to violence.
News:
While the Dalai Lama offered prayers for the peace and security of his fellow countrymen at the main temple complex here, thousands of Tibetans sat in dharna outside the temple and held a protest march from McLeodganj to Dharamsala raising anti-China slogans. At least 6,000 Tibetans and foreigners participated in the march.
A senior official of the district administration said tight security arrangements were made to avoid any untoward incident. The protesters walked over Chinese flags that were laid down on the roads of Dharamsala
With faces painted in the colours of Tibetan flag, they pledged to "take strict action against" the killings in Lhasa.
At least 10 people were reportedly killed in the largest ever demonstrations in nearly two decades against Beijing's 57-year rule over Tibet.
"We are demonstrating against Chinese Army's oppression and want the world to know about the situation in Tibet," said Tashi, a monk.
Tibetans also expressed hope that the Indian Government would cooperate with them this time and they would not be detained en route as they would be returning to their homeland.
"We have resumed our march to Tibet. We were stopped earlier. Our 102 marchers are still in detention, but now we are another 50 marchers determined to go back to Tibet. We are really hopeful that the Indian Government will not stop us. We are just refugees wanting to go back to Tibet and we are requesting the Indian Government to please not stop us," said Palkey, a marcher.
Meanwhile, a number of Tibetan activists gathered outside the Yatri Niwas, where 102 Tibetan marchers are held, to demand their release.
Meanwhile, around 70 Tibetan monks and nuns have started indefinite fast to express solidarity and support with fellow Tibetans.