Dalai Lama speaks after Tibetans Exiles end Special meet, rules out Retirement and reaffirms Middle Way
23rd November 2008 Reportage : Saransh Sehgal Mcllo.com Photo Credit : Saransh Sehgal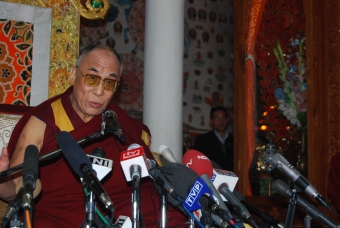 _
Photograph First Shows His Holiness The Dalai Lama addressing media personnel during a press conference at the Main Temple on Sunday 23rd Nov 08. Second shows His Holiness greets Tibetans and media before coming giving the press conference.(Photo/Saransh Sehgal/India)
Dharamsala: The Dalai Lama here in a press conference speaks after the Tibetans in Exile end their special meet which had little over 600 top Tibetan delegates from around the world in Dharamsala.
His statements came a day after Tibetan exiles decided to stick to the "Middle Way" approach to China in a six-day meeting.
The 73-year-old leader told the media that he would not retire, putting an end to speculation about his future after he was hospitalised earlier in the year.
The Dalai Lama said the Tibetan nation was close to a "death sentence," and warned Tibetans to unite in their struggle.
"In the next 20 years, if we are not careful in our actions and planning, then there is great danger to the Tibetan community," he said to the media.
Asked by media on His comments on the 6-day special meet and future course,he said "Wait a month" and "then we'll see" whether the Tibetan side will find a basis on which to propose further contacts.
Dalai Lama not to retire, says Tibet work will continue.The Dalai Lama scotched all rumours of his possible retirement, saying: "There is no point or question of retirement. It is my moral responsibility till my death to work for the Tibetan cause."

"My body and flesh is all Tibetan. I remain committed to the Tibetan cause."
Keept everyone guessing about his successor, saying the issue was open on whether a new head was required, and added that it could be a young boy or a girl.
"There are various ways of doing it (having a successor). The point is whether to continue with the institution of the Dalai Lama or not. After my death, Tibetan religious leaders can debate whether to have a Dalai Lama or not"."The successor can be a young boy or a girl. Girls show more compassion. Also, women are dominating things all over the world," he said.
"I may be the last Dalai Lama," he said.The Tibetan leader felt sad that the Tibet issue was not being resolved. "Tibet is going through a death sentence. Its spirit is being killed ".
His comments over the retirement came as "With certain degree of freedom when we return, then I will hand it over all my legitimate authority. That's one way of complete retirement," he said."I am a human being and I also have human rights,".But he Dalai Lama reiterated that he is semiretired as a political leader."All major decisions are in his hand," he said pointing to Samdhong Rinpoche, the prime minister of the so-called Tibetan government-in-exile. "I am like senior adviser".
On a message to chinese people "My trust in Chinese officials is becoming thinner but my trust in Chinese public is still alive and strong," he said in 2 hour press conference.
He said he had strong faith that one day all Tibetans would return to Tibet.
The Dalai Lama also said that a crucial meeting of more than 100 international support groups to be held in Delhi later this month could provide a better picture of the future course of action.
"End of this month, there will be another meeting where we will see how to go," the Dalai Lama said.
On replying to media question he answered "I agree with Chinese democratic movement. If any democratic organisation there calls me I will come for meeting ".

The Dalai Lama accused Chinese authorities of spreading "rumours" about him,."Chinese say Dalai Lama is suffering from Hepatitis B. Earlier they used to say I am suffering from cancer and will die soon. They are free to come and check," he said.
The special meeting of the Tibetan leadership, called here Nov 17 to 22 by the Tibetan Parliament in exile at the instance of the Dalai Lama, Saturday reaffirmed faith in the leadership of the Dalai Lama and his 'middle-path' policy to work for genuine autonomy for Tibet under China.
The meeting categorically requested the Dalai Lama not to even think of retirement or semi-retirement.
On his ending speech he however stressed the divide between his official and spiritual roles, saying "my moral responsibilities will always be there until my death."
The Dalai Lama fled into exile in India in 1959 following a failed uprising in Tibet against Chinese rule.
Tibetans Exiles end special meet back Dalai Lama's ' Middle way ' Approach
22nd November 2008 Reportage : Saransh Sehgal Mcllo.com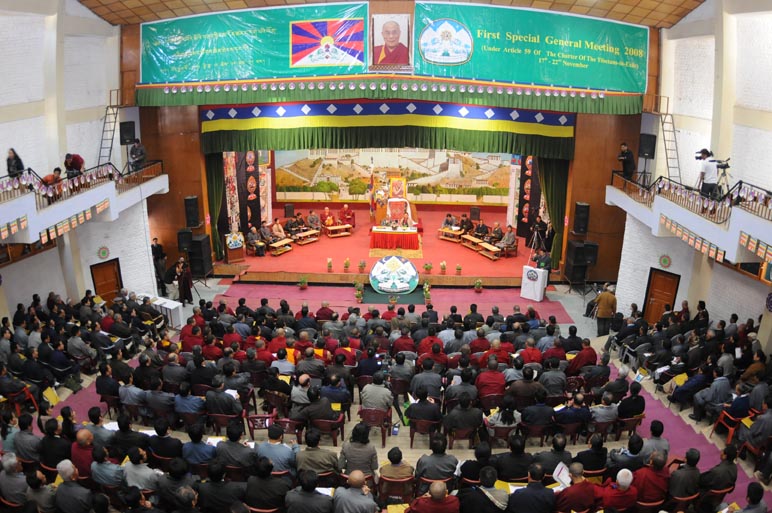 Dharamsala : Tibetans in exile supported Dalai Lama's "middle way" approach of talks with Beijing to gain genuine autonomy for the Tibet region, but said if the efforts did not yield any positive results a demand would be forced to seek full independence.
Expressing their full faith in Dalai Lama and requesting him not to talk about retirement from political leadership.

Despite years of frustration and failed talks, the Tibetan government in exile finds the "Middle way " approach as the best solution.

Little over 600 Tibetan exiles attended the six-day meeting in Dharamsala which ended today, saw intense discussions on whether there should be a shift of policy to advocate independence.With long hour discussions and meeting the "Middle way" approach of Dalai Lama is still the best possible solution to their nearing 50 years of Struggle.

The Dalai Lama, had called for the special meeting after admitting in October that his 'middle way'' policy of securing greater autonomy for Tibetans within China had failed.

With Dalai Lama kept himself away from the special meet,indicated earlier that he wanted to hear the views of his people.


Through the week, Delegates split into 15 groups of 40 each to discuss before presenting their conclusions to the government-in-exile.Some groups at the meeting wanted to give China definite time to resolve the issue.

But an majority said they wanted to stick to the non-violent path headed by Dalai Lama, admitting they could do little more than hope for a softening in China's stance.

A lot of young Tibetans, specially from the west, were pleasantly surprised by the way their views were listened to. Everyone was equal in the discussions.

' In they end they all united behind the Dalai Lama and said they had full faith in him and it was not his fault that talks had failed so far. They reposed their trust in him so that he could decide how to move forward'

The Dalai Lama himself is expected to comment and meet the delegates on Sunday.

Comments | Feedback | Submit Story