Dharamsala Cricket Stadium
[ IPL Matches in Dharamsala [ Dharamshala] Kangra Valley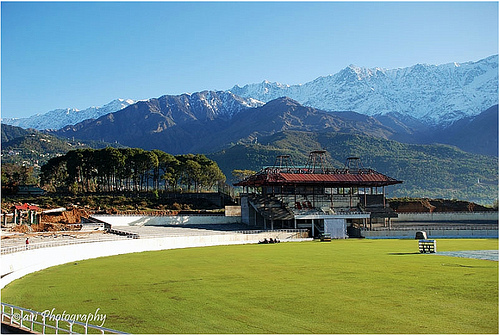 Courtesy - Avinash Shukla's Photography - http://www.flickr.com/photos/avinash-shukla/4419022891/
HPCA Stadium Stadium (Himachal Pradesh Cricket Association Stadium) is a cricket stadium located in the city of Dharamsala in Himachal Pradesh. The stadium is home to Himachal Pradesh cricket team and hosts all of Himachal's Pradesh Ranji Trophy matches and other limited overs matches. The stadium has also been chosen to host two IPL matches acting as the home stadium of Kings XI Punjab, and is having floodlights installed for this reason.
The ground could host international cricket in the future, after it was recommended by Dav Whatmore, the former Director of the Indian National Cricket Academy and current coach of the Kolkata Knight Riders.
The venue is unique in India as it is situated at a height of 1,457 m (4,780 ft 2 in) above sea level and has snow capped mountains in the backdrop. The first international team that played here was the Pakistan national cricket team, that played a tour match against an Indian Board President's XI in 2005.

As surrounded by Dhauladhar ranges, It will leave the the spectators across all walks of life with a breath taking view.The visitors may find themselves indulged in mixed Tibetian & Indian Culture and few lucky might get a chance to meet H.H. Dalai Lama by fixing an early appointment.

The weather in Dharamshala provides a perfect condition to host an international cricket match. The best time for cricket season is from March-June and from September-December.The breeze coming directly from the mountains will help the seam bowlers.

Just behind the stadium is Govt. College of Dharamsala which was built during the British Empire. The tourist can enjoy their short stay during IPL Match by visiting near by places like McLeod Ganj,Naddi, BhagsuNag,Dharamkot,Khaniyara and Palampur and Kangra Valley. The visitors who are keen to have a close look of Dhauladhar Mountains can plan for trekking tours which is provided by various tour operators in McLeodganj and Dharamkot. The best way to reach the snow point(Ilaqua) is a trek from Dharamkot-Triund-Ilaqua.It is a one day trek.

Location: Dharamsala
Cricket Stadium Establishment :2003
Seating capacity 25,000
Owner Himachal Pradesh Cricket Association
Operator Himachal Pradesh Cricket Association
Tenants Himachal Pradesh cricket team, Kings XI Punjab
End Names : River End & College End
IPL 4 2011 Cricket Matches - Season 4
15-May-11 Sunday Time 4pm
Kings XI Punjab Vs Delhi Daredevils
17/05/2011 Tuesday 8pm
Kings XI Punjab Royal Challengers Bangalore
21/05/2011 Time 4pm
Kings XI Punjab Vs Deccan Chargers
In addition to the two Indian Premier League (IPL) cricket games, there will be other cricket matches throughout the week, and all during April, May, and June. The temperate climate of Dharamshala, far from the stifling heat of the Indian plains, have also made these cricket grounds a natural choice for summer cricket coaching camps. The HPCA Cricket Ground at Dharamshala is one of 17 selected by the Indian Cricket Board to hold national and international matches.
Photo sketch [ Diagram ] of Dharamsala [ Dharamshala ] Cricket Stadium :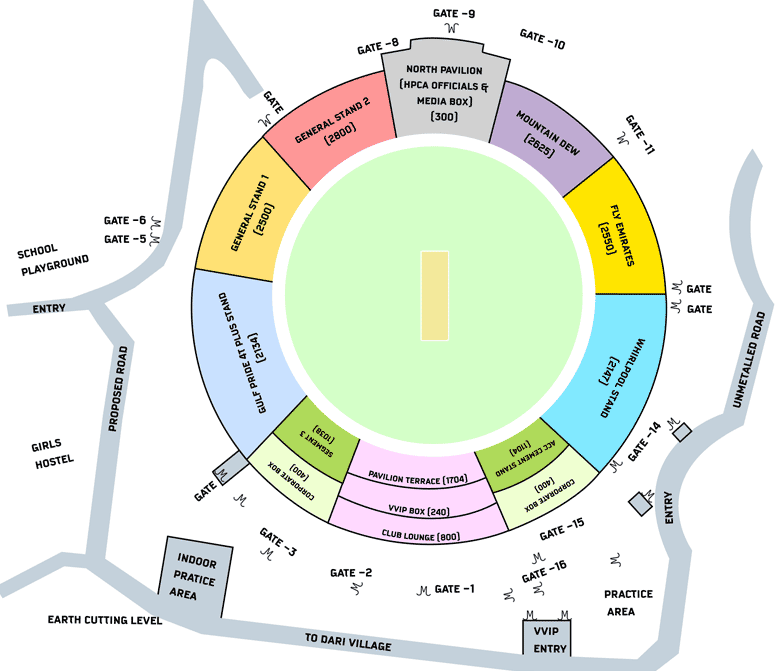 Facts and Informations :
Buy Tickets for Dharamsala IPL Matches April 16 & 18 : http://www.ticketgenie.in/ipl3/Events/pEventGroupDetails.aspx?nEventGPID=8
IPL current score and Live Feed : http://www.iplt20.com & http://www.youtube.com/ipl
Book Hotels In Dharamsala :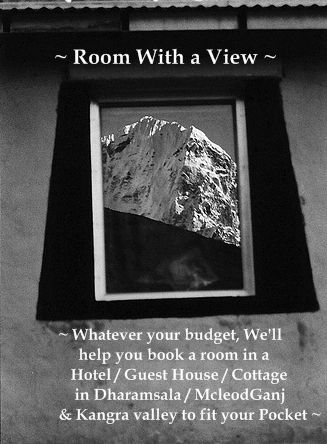 Weather in Dharamsala : Weather in Dharamsala Update
Current Weather in Dharamsala

Quick Facts Dharamsala | Quick Facts McleodGanj (Quick Facts Dharamshala)
Dharamsala or Dharamshala is a town and a municipal council in Kangra district in the northern regions of India in the state of Himachal Pradesh.The town is notable as the capital of the Central Tibetan Administration, a Tibetan government in exile led by Tenzin Gyatso, the 14th and current Dalai Lama. The government's headquarters are located in McLeod Ganj, a suburb that is also referred to as Upper Dharamsala or "Little Lhasa".
Please Note Dharamsala and Dharamshala relate to same town.Dharamsala is also termed as Little Lhasa of India.
McleodGanj also known as Upper Dharamsala is a suburb of Dharamsala in Kangra district of Himachal Pradesh, India. It is known as "Little Lhasa" due to its large population of Tibetan refugees. The Tibetan Government in Exile is headquartered in McLeod Ganj.
McLeod Ganj is named after David McLeod, the Lieutenant Governor of Punjab.During the British rule in India, the town was a hill station, where the British people spent hot summers.
Dharamsala and McleodGanj has many other Suburbs which are Bhagsu and Dharamkot near McleodGanj which consitutes in Upper Dharamsala.Sidhbari, Yol and Khaniyara near Dharamsala or Dharamshala(Lower Dharamshala)
In 1959, Tenzin Gyatso, 14th Dalai Lama came to India after the Chinese conquest of Tibet, and was offered refuge in McLeodGanj.
District : Kangra ( Himachal Pradesh, India )
Coordinates: 32°13′19″N 76°19′02″E / 32.222, 76.3172
Time Zone : IST ( UTC +5:30)
Dharamsala-McleodGanj Postal Code | PinCode | Zip Code : 176219
Kangra Postal Code | PinCode | Zip Code : 176001
Telephone code (prefix): 01892 ( If Calling from Outside India 00-91-1892-Number and If Calling to Mobile in India 00-91-Number)
Annual rainfall: Varies between 290 cm to 380 cm Second highest rainfall in the country
Languages Spoken : Hindi,English,Tibetan and Pahari ( local Himachali Language )
Temperature: Max. 35 C in Summers, Min - 1 C in Winters.
Clothing
Winter : Heavy Woollens
Summer : Light Woollens and tropical
Tourist Office : Himachal Pradesh Tourist office
Kotwali Bazaar
Dharamshala
Telephone: 0189 - 2221205
*Opens (Monday to Saturday, 10 am - 1:30 pm and 2 pm - 5 pm)
Area : 29 km²
Elevation | Altitude : 1457 Metres - 2600 Metres ( Dharamsala Around) and Dhauladhars are 5600 Metres
Transportation :
Airport : Kangra Airport is the Nearest Airport just 12 Kms from Dharamsala Town , 20 kms from Mcleodganj and 7 Kms from Kangra Town. Kingfisher Air Flights from New Delhi run daily.
Rail : The nearest railway station is at Kangra, 17 Kms from Dharamsala connected to Pathankot through narrow gauge line.
Bus : Overnight Buses run from New Delhi.Time Taken 12-14 Hours.Direct Buses from Shimla,Manali,Dehradun,chandigarh and Pathankot are also run.
Dharamsala and its Suburb Mcleodganj are linked by two roads.Share Jeep takes Rs.10.Buses and Taxis are instant.
How to Reach Dharamsala : For Detailed Information on Reach Dharamsala and McleodGanj.Click
News Dharamsala [ Dharamshala ] :

Sleep and Services - Hotels | Guest Houses : There are number of good Hotels and Guest Houses in and around the town.To get a list of Hotels,Guest Houses and Lodges.Click Here for Hotels Page
Travel Agencies, Restaurants and Cafes : Dharamsala and Mcleodganj has a number of Restaurants and cafes, serves a variety of Food.Click here for Restaurants and Cafe in dharamsala and Mcleodganj. Large Number of Travel and Trek Agencies.Click here of Travel and Trek Agencies in Dharamsala and Mcleodganj
Volunteering In Dharamsala and McleodGanj : There are number of good Volunteering organisations ( NGO's), Tibetan Institutes and Centres which provide Short term and Long term Volunteerings.Click here For a List of Volunteering Organisation in Dharamsala and McleodGanj.
Emergency Telephone Numbers :
Mcleodganj Police Station( at Forsythganj) : 01892-221483
Dharamsala(Dharamshala) Police Station: 01892-224883
Kangra Police Station : 01892-265022
Superintendent Of Police ( SP Kangra) : 01892-222244
Hospital Services : 01892-222189
Railway Enquiry : 01892 - 226711
Wireless : 01892- 222911
Deputy Commissioner ( DC Kangra) : 01892 - 229022
Dharamsala Bus Station : 01892-224903
Banks ATM's and Exchange : McleodGanj has limited banks and just one ATM. State Bank of India ATM is just below the Bank Buliding.Other Bank in McleodGanj - Punjab National Bank.
Dharamsala has number of Banks and ATM's - State Bank of India with ATM - Punjab National Bank with ATM - HDFC BANK with ATM - ICICI Bank with ATM - Canara Bank with ATM - Jammu and Kashmir Bank,Bank of Baroda, Kangra Central Co-operative Bank, Oriental Bank of Commerce, Allhabad Bank,Bank of India.
There are Several Authorized private Foreign Exchange agencies in McleodGanj and Dharamsala.
( Accept Foreign money and Travelers Cheque ) : The Punjab National Bank
State Bank of India McleodGanj ( Sunday Open )
Paul Merchants – Western Union , Thomas Cook
Post Office in McleodGanj : The McleodGanj post office is located on Jogiwara Road near the market.Opens Monday to Friday 9:30 am - 1:00 pm , 2:00 pm - 5:00 pm.Saturday 9:30 am - 12:00 pm.Sunday Closed.Parcels and moneyorders can be sent in the mornings only.Telephone : 01892-221924
Medical Services, Hosptials and Clinics in McleodGanj and Dharamsala :
| | | |
| --- | --- | --- |
| 1 | Zonal Hospital (Multi-Speciality) | Near Post Office ,Dharamsala Telephone :01892-222189 |
| 2 | Men-tsee-Khang Hospital (Multi-Speciality) | Jogiwara Road, Dharamsala |
| 3 | Tibetan Delek Hospital | Bhagsu Road, Mcleodganj Telephone :01892-222053 |
| 4 | Dr Yeshi Dhonden Clinic (Multi-Speciality) | Mcleodganj Telephone :01892-221668 |
| 5 | Tibetan Dispensary | Dolma Square , Mcleodganj Telephone :01892-221668 |
Rajendra Prasad Medical College Tanda at Kangra, 500 Hundred Beded Hospital in Kangra with majorily all facilties.Telephone : 01892-267115
Internet Access : McleodGanj and Dharamsala has loads of Internet Facilities all charging around Rs.30-Rs.40.Majorily all Cyber cafes have Print and Photocopy machines.
Bookshops in McleodGanj, Dharamsala

Charitable Trust Book Shop, McLeod Ganj ( Books on Tibet, Its religion and Culture )
Little Lhasa Book House, McLeod Ganj
DIIR Bookshop, McLeod Ganj ( Sell Books on His Holiness The Dalai Lama and Tibetan Affairs )
Hills Book Shop, Bhasgu Road, McleodGanj
Youtse Book Shop, McleodGanj
Bookworm Book Shop, McleodGanj
Sagar Book Shop, McleodGanj
Buddhist Book Store, McleodGanj
Sherig Pharkhang, Gangchen Kyishong, Dharamsala
Tibet Book World, McleodGanj
Namgyal Book Shop, McleodGanj
Doritsung Bookshop, McleodGanj
Cinema / Video Halls : Cinemaa1 , Abrol Video , Memory Theatre
Photography : Moonpeak Pictures on Temple Road, McleodGanj , Click Digital , McleodGanj
Possible Inspiring People to Meet in Dharamsala
His Holiness the XIVth Dalai Lama – The schedule of His Holiness is full, and he travels extensively in the West teaching and speaking out for awareness of the Tibet situation, but a try for a private audience asking at his office is worth.
Ani Tenzin Palmo– Ani Tenzin Palmo, the author of Cave in the Snow. Ani Tenzin Palmo is an English born Tibetan Buddhist nun who spent fourteen years in retreat in a cave in Northern India and is now establishing a nunnery for Tibetan nuns in a small settlement outside of Dharamsala.
Ani Tenzin Sangmo– Ani Tenzin Sangmo is a Dutch Buddhist nun who is the leader in a project to create a nunnery/institute in Dharamsala to answer the spiritual training needs of Westerners who have become ordained as Buddhist nuns.
Bagdro– Bagdro is a Buddhist monk who escaped from Tibet in the early 1990's after years of torture in a Chinese prison for participating in demonstrations for Tibetan independence. He is an engaging speaker, and the author of Hell on Earth, an autobiography that deals with his experiences in Tibet.
John Vincent Bellezza– Author of several books on Tibetan antiquities, he has been traveling in Tibet for three decades to areas that have previously been unknown to students of Tibetan history; fascinating view of Tibetan history and archaeology.
Elizabeth Napper– The force behind Dolma Ling Nunnery, where over 300 Tibetan nuns reside.
17th Karmapa– The Karmapa is in residence at Gyuto Monastery, living in exile after a dramatic escape from Tibet in 2000. The young Karmapa gives teachings four times per week.a try for a private audience asking at his office is worth.
Pu-Druk– An ex-political prisoner in Tibet; was imprisoned for fourteen years for leading peaceful demonstrations in eastern Tibet. Escaped from Tibet to Dharamsala in May, 2005.
Professor Samdhong Rinpoche– Professor S. Rinpoche is the Prime Minister of the Tibetan exile Government. As a monk, teacher and politician, he is highly revered as a Tibetan leader and speaks out clearly for Tibetan independence through non-violent resistance.
What to Bring :
Each international passenger who is coming for a good week long visit make sure you bring one carry-on bag plus a purse (camera bag, etc), plus two check in bags that weigh 70 pounds. Most people find that they can buy everything they need in India, (including favorite toothpastes and shampoos), as well as clothing of all sorts. Ssuggestion- bring a good camera (film is available in Dharamsala), plus batteries for your camera as Dharamsala especially, is one of the most photogenic locations in india.
If you are a light traveler, we suggest packing your carry-on bag with your personal items which includes your all time needs things and your travel requirements.Also Medical Supplies (medicines, bandages, etc) should be kept.
Famous Books and Reads :
Books on Dharamsala, Dalai Lama and Tibetans in Exile
Dharamsala Diaries by Swati Chopra
Birds of Kangra by Jan Willem Den Besten
Freedom in Exile is an autobiography of Tenzin Gyatso, the 14th Dalai Lama
Echoes from Dharamsala: music in the life of a Tibetan refugee community by Keila Diehl
Kundun: A Biography of the Family of the Dalai Lama by Mary Craig
The Road to Dharamsala: My Unexpected Life By Maureen Fallon

Living Tibet: The Dalai Lama in Dharamsala By Bill Warren, Nanci Hoetzlein Rose

Dharamsala, Tibetan refuge By Jeremy Russell

In Exile in the Land of the Snows - Richard Avedon
An interview with His Holiness by psychologist Howard Cutler, looks at a simple but broad-based view on what brings happiness.
Cave in the Snow - Ani Tenzin Palmo
Biography of Ani Tenzin Palmo, an English woman who became a Tibetan Buddhist nun and spent years in retreat in a cave in Northern India. She presently lives in Dharamsala.
The Art of Happiness - His Holiness the Dalai Lama
An interview with His Holiness by psychologist Howard Cutler, looks at a simple but broad-based view on what brings happiness.
Ethics for the New Millennium - His Holiness the Dalai Lama
A best-selling book about how business and individuals can use a compassion-based, ethical approach to daily lives.
The World's Religions - Huston Smith
Huston Smith, a well-known scholar on world religions gives an insightful overview of the primary religions, including Tibetan Buddhism.

Fire Under the Snow - Palden Gyatso
Biography of monk Palden Gyatso, recounting his years of torture in Chinese prisons and his world view since escaping from Tibet. Monk Palden Gyatso has become one of the most outspoken Tibetan ex-prisoners of war in terms of World awareness on human rights violations within Tibet.